Sewing Lingerie with DIY Techniques
I sat down to watch Sew It All on my local PBS station this morning and was pleased to find an episode on DIY Undies. I have been making my own lingerie, bras, and panties for many years. It is really not as difficult as you might imagine and I thought I was pretty good at it but I actually learned several very clever techniques from guest Monica Bravo of Bravo Bella Custom Bras.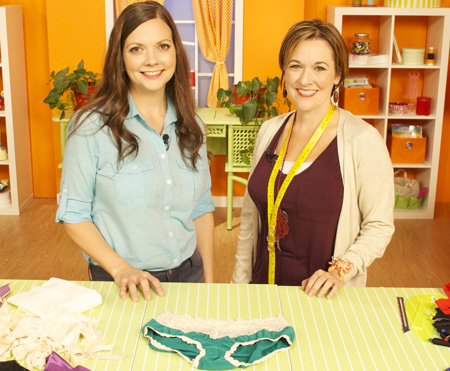 Some of her great techniques included:
the pin trace technique for tracing your favorite undies pattern - this was a new and brilliant technique for me
the "pin" stitch technique to prevent fabric slippage when sewing
the clever "hot dog in a bun" technique for adding a crotch panel to your undies
Other words of wisdom:
use glass head silk pins to prevent pin heads from melting while ironing
use a marking pin that does not heat set and be sure to test with your iron on a scrap of fabric before using it on your fashion fabric
look for lingerie fabrics on clearance bins - people do not always know what they are and so they do not often sell out
use a blind hem stitch to sew stretch into the seams - most all machines will have a blind hem stitch - no need for anything fancier
seal the raw edges of your elastic with a lighter after cutting to length to prevent fraying
use a serpentine stitch or any decorative stitch for attaching elastic so long as it is a continuous forward motion stitch
do not over stretch elastic when attaching it to the fabric since the feed dogs will also stretch it some
lay your scissors flat sideweays to cut away fabric from underneath stretch lace
Get more details from this episode at Sew It All Episode 913
You can learn more about Monica and custom bra and lingerie making on her website at Bravo Bella Bras
---
Copyright Wild Ginger Software, Inc. 1995-present. All rights reserved.
This publication, or any part thereof, may not be reproduced in any form, by any method, for any purpose, without the express written consent of Wild Ginger Software, Inc.