Drafting a French Dart
Drafting a French dart by rotating the side bust dart to the hipline below the waist is quite easy in the PatternMaster Pattern Editor or Cameo's Pattern Design module. The written instructions are below. You can also watch the video posted on our YouTube channel.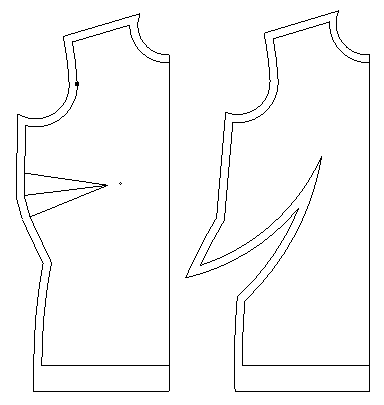 Drafting the Dart
Draft and save a classic blouse or sheath with the side bust dart and the seam allowances set to 0.
Open the patterns in Pattern Editor or Pattern Design.
Select and delete the dart ends.
Use the Move Point (MP) tool to move the dart point to the bust point.
Select and delete the bust circle.
Locate a point on the sideseam where you wish to move the dart.
Choose Dart Transfer (DT) from the Design menu.
SNAP to the point placed on the sideseam.
SNAP to the dart point.
SNAP to the end point of one dart leg.
SNAP to the end point of the other dart leg.
Select the objects as shown.
Enter 100% for the amount to transfer.
Choose Clockwise and press Apply.
Draw a line or arcs for the dart legs.
---