---
The History of Wild Ginger Software
---
(the short version)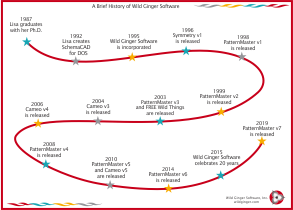 (the longish version)
Lisa Christman is the founder of Wild Ginger Software, Inc. Lisa, company president, has an extensive background as seamstress and pattern maker. She began sewing at age 5. She completed a B.S. degree in Fashion Merchandising in 1982, a M.S. degree in Clothing and Textile Science in 1984, and a Ph.D. in Clothing and Textile Science in 1987. Lisa was head of the Apparel Design department at Auburn University for 9 years where she taught pattern making, sewing, apparel production and fashion design.
In early 1992, Lisa began to teach herself computer programming as part of her research responsibilities for Auburn. She developed her very first program to create custom-sized sewing patterns on the computer in mid 1992. This was a DOS program she called SchemaCAD. She eventually learned to created programs for the Windows operating system and finished Symmetry 1.0 in August 1995.
Wild Ginger Software, Inc. was founded to market Lisa's software programs in October 1995 when Lisa incorporated her sole proprietorship. The first product was Symmetry: Computer Aided Apparel Design. Symmetry is no longer available but instead has evolved into Cameo v7 now established as the flagship CAD product.
People often ask "how did I come up with the name "Wild Ginger". Well, it is the name of a street in Auburn, AL near where some friends lived. Lisa really liked the name and chose it for our company. I was very lucky when the wildginger.com domain came up for grabs. It was originally owned by the Wild Ginger restaurant in Seattle, WA but they let it go.
As the company grew, we met potential customers who had heard of Symmetry but did not have the pattern making skills to use the program properly. They begged us to make a product that would draw patterns by making choices from drawings. Out of these requests and work we had done in drafting custom-sized slopers for Symmetry, the PatternMaster product line was born. The first package in the product line, Pattern Master Boutique, was sold in June of 1998. It has been the best selling women's wardrobe custom pattern software product in the world since its launch.
Wild Ginger has three main product lines: Cameo, Pattern Master, and ePatterns and over 150,000 customers. Wild Ginger has also launched Wild Things!, a free program for creating hats, bags, and accessories, iCare a free program for charitible sewing, and Stitch-n-Stash for cataloging fabric stashes.
Lisa continues to be the sole programmer for Wild Ginger Software. While hard work, innovative thinking, and unheard of free customer support and the longest money back guarantee in the industry, all contribute to our current success -- we would not be all that we are today if it were not for our amazing customer community and the insights and feedback they continue to give us.