---
Wild Ginger Newsletter Volume 1.2.15
---
Spring has finally sprung here in middle Tennessee. To celebrate, our featured style in this volume is a pretty summer blouse created by Robyn de Pyper from Australia. This project is perfect for beginners just learning to use the PatternMaster Pattern Editor.
We are also celebrating the 20th anniversary of Wild Ginger Software all year. We will be offering special prices on selected products on the 20th of each month through the end of 2015. See details at the end of the newsletter.
Featured Style
Robyn chose a mandarin collar and jewel neckline. This button placket technique can be used with many of the PatternMaster silhouettes and necklines in all of the PatternMaster programs. The jeweled vee neck with the mandarin collar and button placket would very stylish. The rectangles for the bands and placket can be created in Pattern Editor or with a pencil and ruler.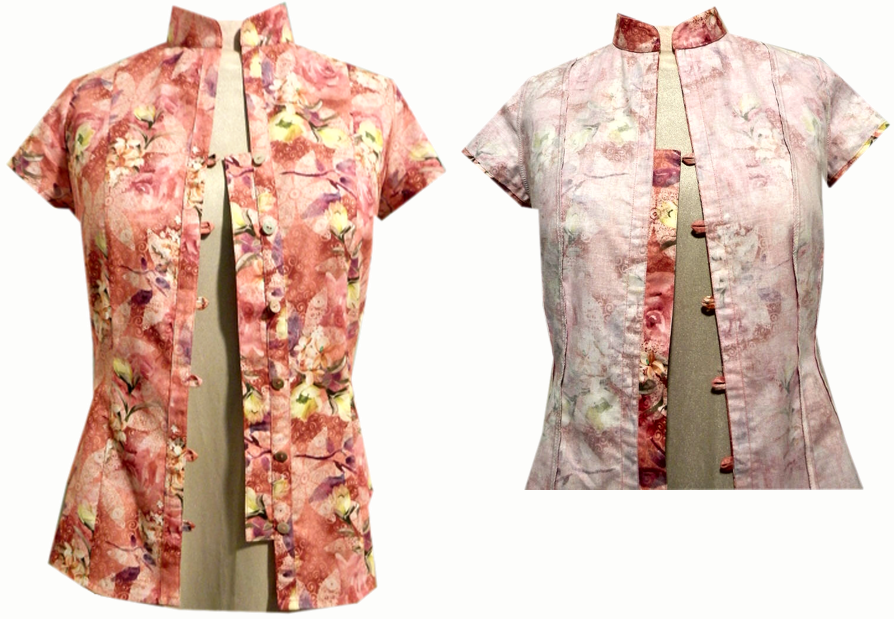 Summer Blouse with Button Loops and Placket
Robyn writes:
"I didn't actually put in a zipper, I just chose that option because I only wanted a seam allowance on the centre front without an extension so I could use button loops on the right side and add a placket to the left side. The seam allowances on the centre front, button loops and placket are enclosed under the bands down each side of the front opening. I would normally add a facing to the inside as well but I was a little short of fabric."
To recreate Robyn's style choose the following PatternMaster options.
classic blouse
front and back jewel neck
front zipper
shoulder princess front and back
full cap sleeve
set length as desired
set front and back neck depth as desired
Click here to view the article containing the instructions for making the patterns and sewing the button placket.
---
Customer Profile
Meet Welmoed Sisson. Welmoed is a long time friend and WG customer from Boyds, Maryland, and she is a Home Inspector (one of the fewer than 2% in the country who are female!). Each year, Welmoed makes a custom gown for the Smithson Ball - a charity event held for the Smithsonian in Washington D.C. Her gowns are always fabulous. She also sews costumes for theatrical productions, and clothing for her husband Bob and lovely daughter Diana. Some of her beautiful creations are below. You can read more about Welmoed on her blog at There She Sews
Q: At what age did you start sewing?
A: I learned to sew when I was about eight years old, but didn't get my own sewing machine until I was out of college.
Q: What brought you to sewing?
A: My mother did a lot of sewing, but nothing very complicated. She used an old Bernina machine with a knee control that she received as a wedding present. I loved to sit in her sewing room and watch her make things, and one day I asked if I could make something for myself. So we went to the local fabric store (Horowitz Brothers in downtown New Haven, CT), and she let me pick out a pattern. At the time I was totally into ice skating, so I picked a pattern for a fully-lined ice skating dress with attached skirt and panties. Much to my mother's credit, she didn't say anything about it being too complicated for a beginner! Then she let me pick out fabric, and again I went for something difficult: a forest green velour, with a burgundy satin for the lining. It took me so long to finish the project that by the time it was done, I had outgrown it. But luckily I was hooked!
Q: What do you like most about sewing?
A: I love the challenge of creating something based on an idea in my head; something that doesn't exist anywhere else or couldn't be bought in a store. Being a larger size meant I could never find comfortable, flattering and attractive clothing; everything ready-to-wear was oversized and baggy. By sewing my own clothes, I could wear anything I wanted, without the strictures of the fashion industry.
Q: What kinds of things do you sew most often?
A: Garments are the primary things that I make, although they encompass a wide range of styles! I make my own work clothes, plus most of my tops and dresses. I also make costumes for myself and my family to wear at local comic conventions. My kids love to come up with suggestions on what to make, and I run with the challenge of turning those ideas into wearable items.
Q: When did you first start sewing with Wild Ginger software?
A: I started with Boutique Version 2, and I thought I was in heaven. I was so impatient that I didn't start with the sloper; I went right to making a dress. When I first tried it on, it felt so funny... until I realized that it felt odd because it was the first time I wore something that actually fit properly! Ever since then I've upgraded as soon as every new version came out, and have added all the other programs to my arsenal as well.
Welmoed in one of her Smithson gowns
Fancy vest for husband Bob
Beautiful dress for daughter Diana